I was at the office browsing the net and I saw

at

Google that today (April 22)

is

Earth Day, and FYI our 4 years and 9 months anniversary.

Hahaha

.

Masingit

lang

.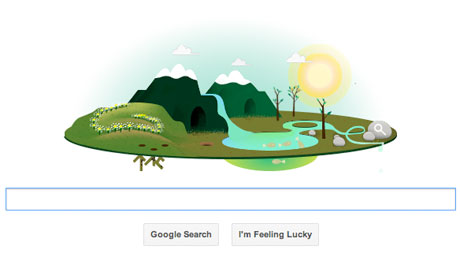 Can

you

see the word google?
Anyway, let's be honest

here

. How many of us here shows concern to our dear mother Earth? How many of us

think

of possible solutions to help the growing problems of our amazing planet?
Today's theme for Earth Day is the different Faces of Climate Change. Some of us who reside near the

sea

or river

are always worried

whenever the high tide alerts arises, plants

and

crop resources engaged with drought, fishermen who went home with empty

nets

, super storms we experienced like Ondoy, Pablo, and Sendong.
Also the animals

experienced

this kind of change. Our sky looks hazy and cloudy gray unlike

before

. Climate change has a very large impact to us humans, to animals, to

our

natural

resources for everybody.
So this day, for the

43rd anniversary

of Earth Day, more than one billion people will take action

all

over the world. We, too, can also be part of this campaign by simply:
• Upload your photos

depicting

The Face of Climate Change and spread the world of social media: Instagram hashtag would be #faceofclimate
Let us share what we

know

we can. We uploaded pictures in Instagram for social purposes, now make it

more

relevant.